Additional Services We Offer
Cost-Effective Drainage Solutions
When protecting the value and usability of your property from water damage your goal is to capture excess water, move it away from your home and then disperse or store it in a safe manner.  A drainage problem is a serious problem that requires the right solution. If you do not immediately address water drainage issues you expose yourself to property damage, reduced functionality of your yard, health issues and "surprise" repair costs later.
The Wrong Solution, the "Quick & Dirty" Solution: Many homeowners believe they can solve their drainage problems by simply moving dirt (grading) or digging shallow trenches. These temporary fixes do not effectively solve the problem and can actually make the problem worse. The majority of homeowners report that they are unhappy with the results of temporary solutions – and end up trying another approach within 12 months.

Drainage Solution Products
NDS EZflow:  EZflow offers an engineered and gravel-free alternative to a traditional French Drain system.
NDS Flo-Well: Flo-Well engineered dry well presents an easy to install and sustainable solution for managing storm water runoff.
NDS Catch Basin:  Catch Basins and grates collect surface water while minimizing the amount of debris entering the drainage system.
All of these parts, which are installed within the landscape, work together to ensure that excess water is collected and carried away from the property. If you are ready to take advantage of a drainage system you can trust, now is the time to learn more about our design and installation services.
Decorative Landscape Water Fountains
A perfect complement to any garden, these elegant fountains eliminate weight and safety concerns while retaining all the charm and durability of natural materials.  These lightweight, sturdy fiberglass fountains offer something for every landscape taste and budget.
With the upgrade option of adding an automatic fill valve, this eliminates the need to manually add water to your fountain.  These professionally installed fountains with their calming effect of water flowing and adjustable color change options are the perfect fit for any landscape by the entry  of your home or any outdoor living area that you may have.
Automatic Fertilization and Pest Repellent Systems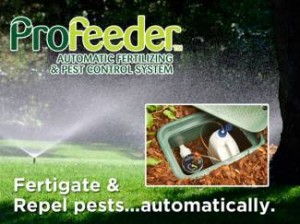 As a tie in to your lawn irrigation system, the Pro-Feeder fertilizer is introduced slowly into your irrigation water and into your grass roots.  Since it is a liquid form of fertilizer it can't be washed away like granular fertilizer.  The liquid fertilizer that is used is made from all organic products that are safe to children, animals, and plantings.
Another product that can be mixed into the Pro-Feeder is an insect repellent called NatureShield.  Made from organic products that provide a safe, effective pest barrier for mosquitoes, ants, ticks, fleas, and other crawling and flying insects.
Contact us to learn more about any of these products. We proudly provide systems for residents of Saint Peters, Missouri, Saint Charles County, Saint Louis County and the Greater Saint Louis Metro area.